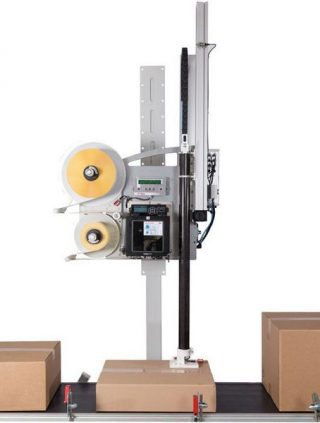 Sporty performance with up to 2,400 labels per hour!
Endurance, speed and precision are important features ‒ not only in sports, but they are often pivotal in industry and trade as well. In the mail order business, for instance, cartons must be labelled quickly and reliably. At 2,400 cycles/hour, the high performance labelling machine Legi-Air 6000 from Weber Marking Systems will rapidly and accurately label passing product cartons with heights varying up to 500 mm.
After a sensor upstream has measured the height of the approaching product to label, the applicator will travel to its correct position at lightning speed. This reduces the travelling distance during labelling, whilst simultaneously also dispensing labels more accurately and up to 50 percent faster than applicators using pneumatically driven cylinders. Its consistently lightweight design sporting carbon fibre components for the moving parts is also instrumental. The applicator is ca. 80 percent lighter than conventional models.
Powerful lightweight saves energy
Another advantage: Since the dispensing applicator needs no compressed air, but travels by servo-motor, it also saves costs. Compressed air is used only for the application of labels with the tamp-blow method.
Enduring, easy-care and adaptable
A microprocessor controller optimises cost and space requirements. No separate control cabinet is required, allowing perfect integration of the compact unit into the production environment.
Productive time will also be longer and maintenance time shorter. The Legi-Air 6000 can process large rolls up to 350 mm in diameter – this means 600 m of labels in line – the maximum ergonomically justifiable size of roll! System availability between roll changes is therefore increased.
The industrial printing modules used in the applicator are state-of-the-art. Due to their special design, the most important components are easily accessible for servicing or maintenance. Overall, the Legi-Air 6000 distinguishes itself through its outstanding availability, since the modular design allows a high degree of customisation, thus hardly ever requiring the attendance of a service technician. The applicator will also travel to a service position above the print head in the event of an error, allowing convenient exchange of labels and foils and easy cleaning of the print head.
Overview
High performance applicator: Extraordinary fast and accurate labelling of passing cartons of varying height
Up to 2250 cycles per hour (with DIN A6 label format and 500 mm difference in product height)
Servo motor driven dispensing applicator: Cost reduction
Up to 50 percent faster than applicators with pneumatically driven cylinders
Consistent lightweight design
Carbon fibre material for moving parts
Longer productive times, shorter maintenance times
600 m of labels in line
Modular design: individually adaptable to specific demands