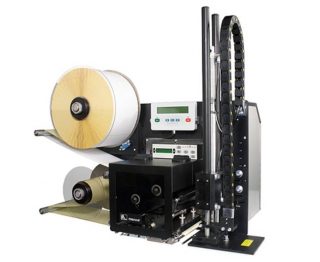 Expanded system diversity for precision labelling
E is a synonym for the word 'ENHANCED'. Underneath is the system diversity based on modular construction. The design comprises a feeder module, a printing module, label reeler and un-reeler and numerous applications such as feeder dies, for instance. The standard feeder die has a quick-change system which significantly reduces the changeover time to other label formats.
The Legi-Air 4050 E prints and feeds labels in lengths of 10 x 5 mm up to 180 x 300 mm with a feeder output of up to 210 labels per minute with the blow box method. To optimise logistics in particular, the Legi-Air 4050 E has a RFID print module that supports existing RFID standards.
A two-stage vacuum for label transportation and feeding facilitates flexible adaptation to the labelling material (hard, soft …) and guarantees process reliability during labelling. The exact vacuum required for safe label transportation onto the feeder die on the one hand and for application on the other hand, is created. Thanks to electronic vacuum- and pressure measurement in conjunction with Festo pneumatics, the Legi-Air 4050 E feeds labels with maximum precision and speed.
Swivel applicators enhance fitment in many label positions and mounting positions. A removable display controller supports this flexibility and facilitates simple and quick operation by means of targeted plain text user information and stored system parameters. Flexible control or networking of systems guarantees conventional standards such as Ethernet, serial and parallel data connections as well as USB.
Recipient of the innovation award in the RFID category
The system automatically programmes 868 MHz (UHF) smart labels, checks and prints on the labels and finally applies these to the product. The LA 4050 E has a radio frequency read/write unit. Apart from printing photos, text and bar codes on the label surface, the RFID printer also reads and writes on a transponder that is integrated into the label. In this way, visual data can be printed on the label and data can simultaneously be written to the RFID tag. If a RFID tag cannot be written to for some reason or cannot be read back correctly by the control reader before application, the label is not applied but automatically separated out (bad tag reject).