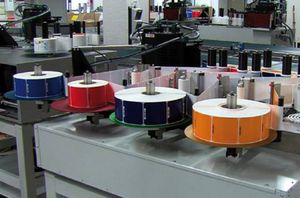 The right label at the right time
The new Alpha Quadro label dispenser offers you totally new possibilities in the field of labelling products and packaging. This system's special feature: several different label rolls can be processed simultaneously. The Alpha Quadro guarantees high labeling performance and application accuracy, combined with high processing speeds at production and conveyor lines.
An innovation addressing the growing market demands for labelling of a multitude of different products. Diverse product shapes can be labeled in the most confined of spaces – from rectangular to round. Up to four different labels may be kept ready for automatic application to passing products, in arbitrary sequence and combination. The special belt applicator enables compensation for tolerances in product position. Integrated detection of the height of different products allow labels always to be applied at a specific position relative to the size of the product. The Alpha Quadro can also be fitted with well-known standard applicators such as blow or tamp-blow units.