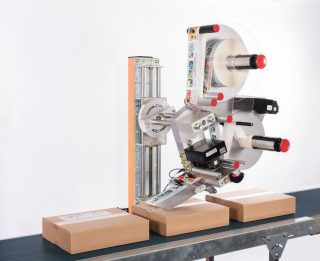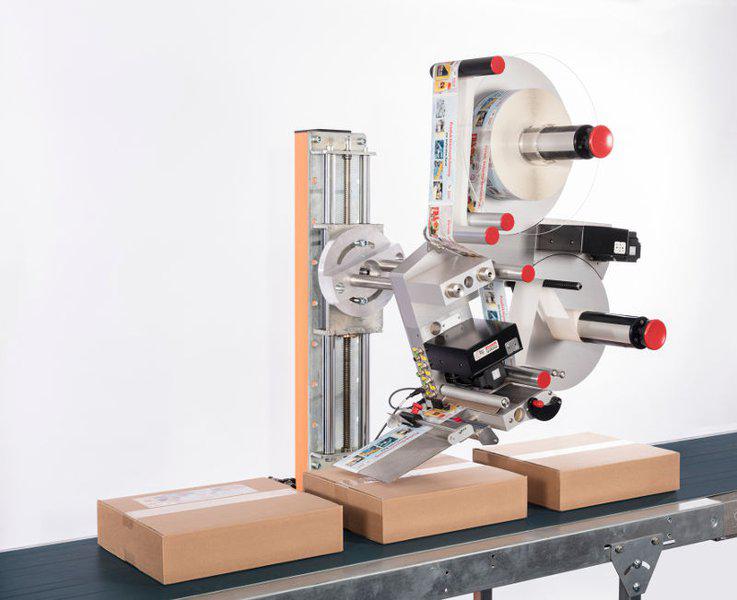 Extremely flexible within limited space
More power, higher speeds, easier operation: Our label dispenser Alpha HSM offers more than just excellent performance. Almost like a chameleon, it perfectly adapts to its environments thanks to its unique modular design. It applies pre-printed labels to products and packaging in high speed. High performance servomotors offer very high accuracy in automatic labeling.
All main components and functions can be customized to meet your specific demands. Thanks to their own drives and special adapters, for example, the label feeders and unwinders can be mounted location-idenpendently, while the basic module with the dispensing unit is integrated directly into the production line. In addition, different basic modules and dispensing tongues can also be selected. This creates maximum flexibility in the integration in confined spaces. Plus: With its special housing, Alpha HSM achieves IP65 protection and does not need to be covered when used in damp and dusty environments or during wet-cleaning.
Depending on the system, labels with widths of 10 mm to 320 mm can be dispensed and label rolls with a diameter of up to 500 mm can be processed. Labeling speeds of up to 150 meters per minute or clocking frequencies of up to 2,000 labels per minute can be achieved.
Both the input and the storage of different labeling parameters as well as functions and the calibration of the sensors can be stored in the Alpha HSM. The system can be controlled with the aid of various PLC modules. A web-based control is also possible.
Protected against dust and moisture (protection rating IP65)
About 65 modules allow individual adjustment of all functions
Feeders and rewinders can be mounted anywhere thanks to their own drives
Labeling speeds of up to 2,000 labels or 150 meters per minute
Short set-up times for product changes
All adjustable parts of the device are highlighted in color
Can store up to 10,000 parameter settings
Automatic parameter settings via Datamatrix codes
Suitable for connection to customer-specific PLCs
Web-based control possible via Wi-Fi
Individual service portal with support documents