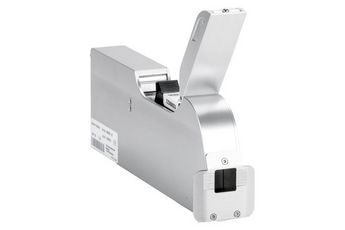 Automatic protection of print cartridges
Attention, dust and heavy air! These are the enemies of thermal inkjet cartridges: the pressure nozzle closes or the ink dries up. The result: a poor quality printed image. Weber Marking Systems offers the solution with its industry-grade self-sealing Markoprint thermal inkjet printhead with HP printing technology.
Excellent prints, under all conditions
The print head for the tried and tested HP cartridges is designed to prevent dust from entering or accumulating. And the ink does not dry out when the printing system is paused or not being used. The cartridge does not need to be cleaned in between or removed when not in use.
Automated sealing technology
Herbert Jesse, Head of Markoprint Product Development at Weber Marking Systems, explains: "During standstill of the production line, the print head automatically retracts the cartridge and closes the open nozzle plate after an exactly defined period of time – but no later than after 6 seconds". The print head receives the information via an upstream sensor or the machine control system (PLC).
As soon as a light barrier detects the restart of the production line and it is reported to the print head, the cartridge is returned to the printing position and the standard high quality printing is continued.