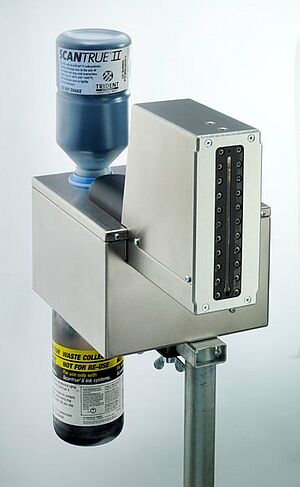 With Trident technology: Perfect for large character coding
The Markoprint X1JET MX is an independently operating industrial inkjet printer, especially suitable for the coding of large printing images. The Trident Piezo Inkjet technology codes on flat, absorbant surfaces, quickly, accurately and reliably. This compact & well-priced system is designed for different ranges of applications i.E. food & beverage, chemical and building material industry.
Well-priced technology for the printing of layouts directly on carton material
For each application the right system
The print heads are available in two different versions: For printings at 50 mm maximum height and for printings at 100 mm maximum height. The Markoprint X1Jet MX is available in 3 different variations: Compact, Vario and Top. The Compact version has a vertically fixed print head. The print head of the Vario version can be turned up to 90°C to the left, and allows therefore also a coding on rising conveyor belts. The Top version codes from above onto the packaging or the product.
Printing heights up to 50 or 100 mm (depending on version)
Simple integration into packaging systems and conveyors for printing from side or top
Universal and flexible use
Markoprint X1JET MX uses True Type fonts for printing. All conventional 1- and 2-dimensional codes can be printed. The controller is fully integrated into the print module.
The robust and highly compact design ensures maximum application availability
High immunity against electrical discharge
Easy to use
No training necessary: Printing with the Markoprint X1JET MX is simple, due to 3-logic intuitive operation with LED status light. Data transmission is initialized with USB stick/ interface. A big advantage is the integrated maintenance station including the power supply. This makes the installation and maintenance very easy.
User friendly due to 3-logic
Select and print directly 9 layouts/labels
X1JET MX versions
X1JET MX is available in the following versions:
Markoprint X1JET MX 100: Printing height up to 100 mm
Markoprint X1JET MX 50: Printing height up to 50 mm
Control
The X1JET MX system allows a data transmission via USB stick or Ethernet/EIA-232 interface. Print layouts are created with iDesign software.
Data transfer using USB stick
Data transfer connecting Ethernet and EIA-232