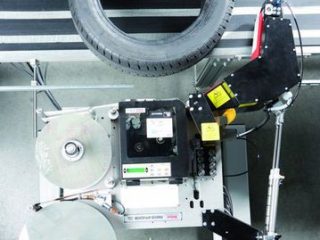 Fast, accurate, safe
Effective in 2012, the EU Commission will require tire manufacturers to comply with new labelling guidelines aimed at clarifying the safety and performance characteristics of tires. The Legi-Air 5300 Tire Labelling System from Weber Marking Systems is ideally suited to meet the new EU guidelines. The system is fast, reliable and easy to integrate into any existing production process. In addition, we offer custom, pressure-sensitive labels specifically designed for any
type of tire. Let us show you how to transform this new labelling obligation into your advantage!
Identification is Weber Marking's specialty. As your partner in Labelling and coding, we have developed a unique label printing and application solution that features flexibility, quality and efficiency in addressing the needs of tire manufacturers. The LEGI-AIR 5300 Tire Labelling System safely, quickly and consistently produces perfectly positioned labels. It also optimizes the product identification process to provide a positive impression on consumers, thanks to accurate label placement and a strong brand impact.
The system prints top-quality labels at very high resolution in a single operation. The robust and durable construction of this unique Labelling system makes it ideal for use in the challenging environment of the tire production industry. Successive products always are properly labelled, even with changing product identification requirements, and the system detects any loss of labels or faulty triggering.
Continuously changing products and information can be accommodated without wasting labels. The LEGI-AIR 5300 Tire Labelling System is versatile enough to communicate via existing data controllers or interfaces. Functions like service interval alerts or operating mode display are very user-friendly. These functions will, among others, report via a signal or by e-mail when service is due or report a malfunction caused by depletion of a consumable. The plain text, multilanguage display can be freely positioned. The installed web browser also enables the current servicing status to be inspected by remote diagnosis.