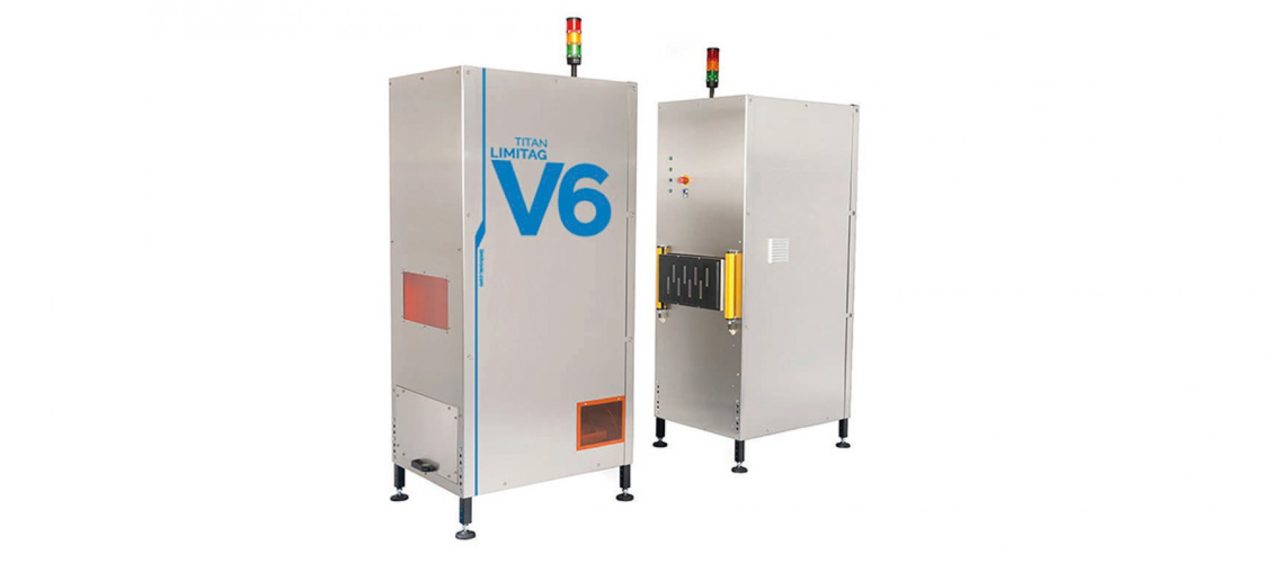 Characteristics
New Limitronic V6 EPS printer
Limitronic is proud to present the new evolution of its V6 EPS color printer.
Digital printing on both opposite sides of EPS rigid boxes
Single pass. Multiple print heights available
Maximum contrast up to 3000 boxes/hour
Multiple job queues
Automatic changeovers
UV LED technology
V.O.C. free application
Flexible solution for manufacturers of EPS boxes or in-line personalisation to customers
Solid and robust
Supports any working environment
Print station is completely covered with a stainless steel housing which guarantees robust protection
IP 65 controller
Drive multiple print stations. 72 or 144mm high prints on both sides
User friendly interface
Print jobs include queues and automatic selection of multiple factory lines
Printable products
Porous, glossy, coated cardboard, paper, textiles, wood, plastic, metal, foam, EPS
Options
Encoder, post-printing bar code verification, alarm beacons, bar code reader for selecting products, external message selection
Advantages
Auto-cleaning system
Print station is automatically maintained as clean as the first day of operation
No more white lines on printouts.
Printheads are covered during long stops
Instant dry
Print at any speed up to 60m/min maintaining vibrant colors
Extreme care of EPS material.
UV LED technology leads to faster operations & therefore higher productivity
Print
Print head resolution
180 dpi
360 dpi
Print speed
60 m/min @ 360dpi
0.2 – 192 m/min depending on the resolution
Height
72 mm
140 mm
Maximum length
+100 metres
Densities
3 levels
Font type
True Type ™, Open Type ™ fonts
Character coding
Unicode
Bar codes
GS-1 standard
EAN/UPC, ITF-14, GS1-128, GS1 Datamatrix,
GS1 QR Code
Printing in various fields
Of user (customised fields) and automatic
fields (expiry dates, shift codes, counters)
Orientation
Vertical (side of product)
Horizontal (product cover
Electrics
Power supply
Selectable by switch
88-132 VAC | 176–264 VAC
47-63 Hz, 600 W (max)
Inputs (per block)
1 x printing signal
1 x encoder
Output (per block)
2 x programmable electronics
2 x status indicators
Communication ports
1 x RS-232
1 x RS-422 / 485 / 232 (optional)
2 x 1GB Ethernet
1 x USB
1 x Wi-Fi (Optional)
Other Specifications
Environmental
Work environment:
5 – 45 ºC (41 – 113 ºF)
Protection:
IP 52 (controller)
User interface
15″ colour touchscreen
Selection of preview messages
WYSIWYG
Diagnostics
Integrated message editor
Comunications
Own communications protocol
Windows™ Driver
Connectivity with external database and ERP
Remote assistance
Weight
38 kg (console)
26 kg (C L70)
Ink
UV LED inks
Colours
Black
Cyan
Magenta
Yellow
Kodlanabilen Ürünler
Gözenekli, parlak, karton, kâğıt, tekstil, ahşap, plastik, metal, köpük, EPS
Seçenekler
Enkoder, baskı sonrası barkod doğrulama, alarm işaretleri, ürün seçimi için barkod okuyucu, harici mesaj seçimi
Avantajlar
Otomatik temizleme sistemi
Baskı istasyonu otomatik olarak işlemin ilk günü kadar temiz tutulur
Baskılarda artık beyaz çizgiler yok.
Baskı kafaları uzun duraklar sırasında kapalıdır
Anında Kurur
Canlı renkleri koruyarak 60m / dk'ya kadar herhangi bir hızda basın
EPS malzemesine titiz bakım
UV LED teknolojisi daha hızlı işlemlere ve dolayısıyla daha yüksek verimlilik sağlar
Baskı
Yazıcı Kafa Çözünürlüğü
180 dpi
360 dpi
Yazı Hızı
60 m/dk @ 360dpi
0.2 – 192 m/dk çözünürlüğe bağlı
Yükseklik
72 mm
140 mm
Maksimum Uzunluk
100 metre
Yoğunluk
3 seviye
Font tipi    
True Type ™, Open Type ™ fontları
Karakter kodlama
Unikod
Barkodlar     
GS-1 standard
EAN/UPC, ITF-14, GS1-128, GS1 Datamatrix,
GS1 QR Kod
Değişken alanlarda Baskı

 

Kullanıcı değişkenleri (kişiselleştirilmiş alanlar), otomatik alanlar (son kullanma tarihleri, vardiya,  sayaçlar)
Oryantasyon:

 

Dikey (ürün- yan taraf)
Yatay (ürün kapağı)
Elektrik
Güç Kaynağı
Seçilebilir Anahtar
88-132 VAC | 176–264 VAC
47-63 Hz, 600 W (maks)
Giriş (blok başına)
1 x yazıcı sinyali
1 x enkoder
Çıkış (blok başına)
2 x programlanabilir elektronik
2 x durum göstergeleri
İletişim Portları

 

1 x RS-232
1 x RS-422 / 485 / 232 (opsiyonel)
2 x 1GB Ethernet
1 x USB
1 x Wi-Fi (opsiyonel)
Diğer Özellikler
Çevresel
Çalışma Ortamı:
5 – 45 ºC (41 – 113 ºF)
Koruma:
IP 52 (kontrol paneli)
Kullanıcı Ara yüzü
15'' renkli dokunmatik panel
Ön izlemeli mesaj seçimiWYSIWYGTeşhis
Entegre Mesaj editörü
İletişim
Bireysel iletişim protokolü
Web Sunucu
Windows™ Sürücü
Harici veri tabanı ve ERP ile bağlantı
Uzaktan Yardım
Ağırlık
38 kg (konsol)
26 kg (C L70)
Mürekkep
UV LED mürekkepler
Renkler
Black
Cyan
Magenta
Yellow