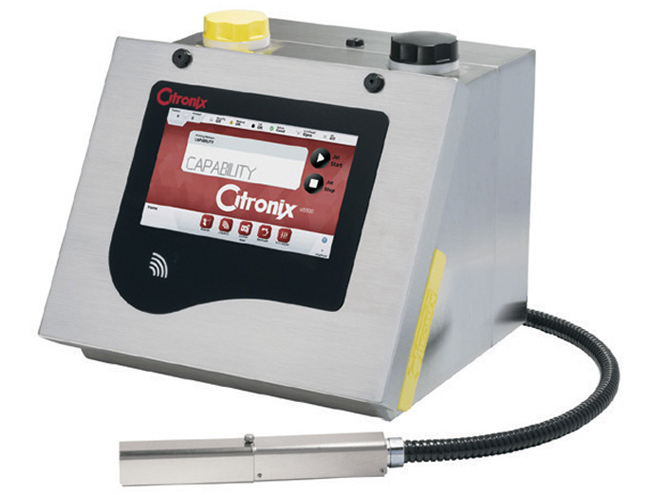 Speciality printers for high speed, small character or colored ink applications are available in ci5500 and ci5650 models. Printhead and conduit can also be configured with right angle bends and up to 20 feet conduit lengths.
Micro
Small Character 40 Micron
Small character printer for applications requiring very small print heights (0.6mm to 6mm print height) at high resolution. This specialty option is available on ci5500 and ci5650 models.
FEATURES
| | |
| --- | --- |
| Feature | Model Specification |
| Assumed usage (hours/year) | 3,000 to 8,500 |
| Lines of print | 1 – 5 lines |
| Character height | 0.6mm to 6mm |
| Font height | 5 to 31 dots |
| Line speed at 5 drop and 50 dpi | up to 10.3 m/s |
| Nozzle size | 40um |
| Drop size | 40um |
| PixelPlus | No |
| ciLink | Yes |
| Inputs (photocell / shaft encoder / programmable) | 2 / 1 / 8 |
| Cabinet | Stainless Steel |
| IP Rating | ci5500 (IP55), ci5650 (IP65) |
| Weight (including printhead) | ci5500 (18kg), ci5650 (18.7kg) |
| Warranty | 30 months manufacturers warranty as standard (local conditions may vary). |
TECHNICAL SPECIFICATION
| | |
| --- | --- |
| Feature | ci5000 Series Specification |
| 10.1″ Touch Screen | Yes |
| ciPrecisionPlus | Yes |
| ciEasyServ | Yes |
| SmartFlush | Yes |
| ciSafeFill | Yes |
| Programmable Alarms / Relays | 3 / 1 |
| Conduit Length | 9ft (2.75m) as standard |
| Service Interval | Service intervals of 8,000 hours or 18 months, depending on environment. |
| Languages | English, Spanish, French, German, Italian, Chinese (Simplified), Chinese (Traditional), Russian, Bulgarian, Kasakh, Macedonian, Arabic, Vietnamese, Korean, Japanese, Polish, Latvian, Lithuanian, Estonian, Turkish, Thai, Hebrew, Greek, Danish, Swedish, Norwegian, Finnish, Portuguese, Brazilian, Romanian, Croatian, Slovenian, Serbian, Albanian, Slovak, Czech, Hungarian, Dutch, Hindi, Urdu, Persian and Swahili. |
| Power | 90 – 240V:(3 Amp), auto-ranging; 50 – 60Hz |
| Operating Temperature Range | 5ºC to 45ºC (41ºF to 113ºF), ink dependent |
| Humidity Range | 10% to 90%, non-condensing |
| Tank Sizes | 1.9 liter ink tank; 2.25 liter make up tank |
INK RANGE
40μm Micro Compatible Inks
General Purpose MEK Black
General Purpose MEK Red
General Purpose MEK Blue
General Purpose Ethanol Black
Halogen/Heavy Metal Free Black
ACCESORIES
Accessories and Consumables
Alarm Beacons
Photocells
Shaft Encoders
Positive Air Kit
Bench and Floor Mountings
Printhead Wash Station
Printhead Brackets
Build Configurations
Right Angled Printheads and Conduit Connections
Multiple Conduit Lengths (9ft, 15ft and 20ft)
Anaconda Conduit (Smooth Surface)