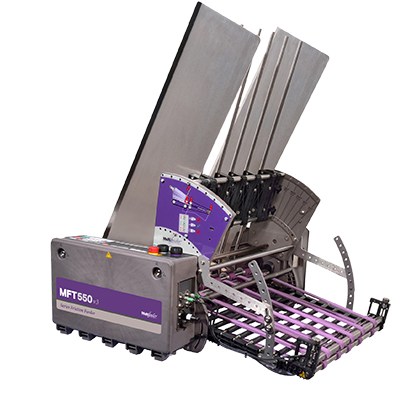 General Information:
The Multifeeder v3 category, the Signature Series, (v3) is our economical, cost-effective friction feeder machine. Designed and built with the same quality as our premium feeders, the Signature Series v3 is engineered for lower throughput and speed applications. With a powerful 750 watt one horsepower brushless servo motor, computer controls, and four different discharge lengths available makes the Signature Series friction feeder a top contender in its class. The Signature Series feeders are a strong, robust and reliable lower demand machine for simpler applications providing dependability on the production floor.
The 550v3 Friction Feeder machine is an economical wide-body friction feeder machine. With the wide-body, very large/large/medium irregular carton blanks, flat sheets or products can be easily transported as base products quickly and efficiently to other applications. The 550v3 feeder is designed and built with larger over-sized shafts enabling the feeder for long production runs transporting products to other applications. Tipping and affixing of large size products is ideal for the 550v3. When very large/large/medium size products are needed to feed and high speed is not essential, combined with the cost savings and reliability of the v3, then the 550v3 friction feeder machine is your best choice.
MFT 550v3 Typical Products that feed:
Feeds all the same products as the 250ip3, plus these:
Very large/large/medium leaflets or booklets
Small cartons
Flat cosmetics
Liquid-filled pouches
Trading cards
Business cards
Credit cards
Blister packs
Moist towelettes
Z-Folds shampoo and lotion samples
Stickers
Tickets
Coupons
Corrugated inserts
Note pads
And many more small products…
MFT 350v3 Typical Friction Feeder Applications
High-speed feeding of large oversized products
Tipping or affixing ( only available as an optional upgrade)
Batch Count (only available as an optional upgrade)
Collating
Labeling
Printing, inspecting and rejecting
Integrating an Automatic Product Loader (APL)
Standard performance level only
Specs
Minimum product size: 50mm(W) x 50mm(L)
Maximum product size: 500mm(W)
Minimum product thickness: 0.075mm
Maximum product thickness: 25mm
Maximum belt speed: 140 meters/min [459 feet/min]
Operating temperature: 10-35 Degrees C [50-95 Degrees F]
Power requirements: 110/220 volts 50-60 [HZ max 6 amps]
Total unit weight: 75 – 150lb*
Product magazine: 750mm
Feeder discharge: two standard lengths, 200mm and 375mm
*Dependent upon configuration
Standard Features"
Portable unit: Self-contained unit with only one electrical enclosure
Computer controlled: Computer control provides thousands of control calculations per second for precise start, stop, and watch dog detection
Easy interface: Standard signals available for easy interface with existing computer, PLC or other host machinery
Production log: Automatically stores your production history in the feeder's computer with production count, and fault logging with time, date and type of fault
Intuitive user interface: Custom 26-key sealed membrane key pad with 4 x 40 character LCD display
User-friendly changeover: Easy and accurate changeover with twist lock handles
Ruggedly built: Hardened stainless steel shafts and sealed bearings for maximum life and 24-hour a day operation
Quick belt replacement: Three piece shaft assemblies for quick maintenance
Optically isolated signals: All interface signals isolated for accuracy
Built for harsh environments: Stainless steel shafts, sealed for life ball bearings, surface protected state of the art drive components and sealed durable carbon composite enclosures to protect internal parts
One year warranty: One year warranty on parts and labor
Software Lockout Function Option: Allows user to lock out some or all feeder functions for simplicity for the operator
Options
Three-color signal light: Green = ready, Yellow = low product, Red = fault
Pre-select counter: Standard pre-select product count (1-999 per cycle)
Automatic Product Loader
Remote Key Pad
Static Reduction System
Portable Stand
Catch Tray
Multiple Product Detection
Batch Counting (up to 140 MPM)
Clear Product Detect
ezTipping with Encoder input (up to 150 products per minute, up to +/- 1/8th" accuracy)
Encoder Timing Compensation
Speed Compensation
Serial Control