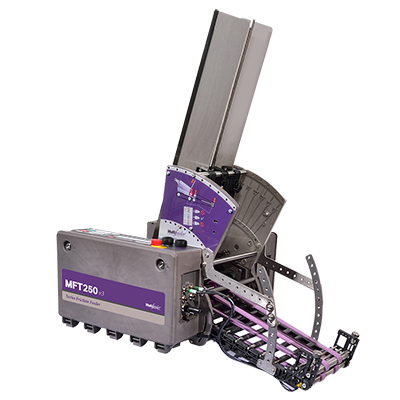 General Information:
The Multifeeder v3 category, the Signature Series, (v3) is our economical, cost-effective friction feeder machine. Designed and built with the same quality as our premium feeders, the Signature Series v3 is engineered for lower throughput and speed applications. With a powerful 500-watt two-thirds horsepower brushless servo motor, computer controls, and four different discharge lengths available makes the Signature Series friction feeder a top contender in its class. The Signature Series feeders are a strong, robust and reliable lower demand machine for simpler applications providing dependability on the production floor.
The 250v3 Friction Feeder machine has the same compact and versatile qualities as the 250ip3 feeder machine. Its compact size is also an advantage for this category feeder. The 250v3 feeder, while still a quality built machine, feeds all the same products as the 250ip3 machines. Like the 250ip3 with its advantage in a compact size, the 250v3 feeder will also better integrate into your production line and time and cost savings will be apparent. When small products are needed to feed and high speed is not essential, combined with the cost savings and reliability of the v3, then the 250v3 friction feeder machine is your best choice.
MFT 250v3 Typical Products that feed:
Small leaflets or booklets
Small cartons
Flat cosmetics
Liquid-filled pouches
Trading cards
Business cards
Credit cards
Blister packs
Moist towelettes
Tax stamps
Stamps
Z-Folds
Shampoo and lotion samples
Stickers
Tickets
Coupons
Corrugated inserts
Note pads
And many more small products…
MFT 250v3 Typical Friction Feeder Applications:
Tipping or affixing (only available as an optional upgrade)
Batch Count (only available as an optional upgrade)
Collating
Labeling
Printing, inspecting and rejecting
Integrating an Automatic Product Loader (APL)
Integrated as a base feeder to another application
Standard performance level only
Standard Features
These cost effective feeders exemplify durability and ease of use. Two different discharge lengths are available including ED and XED. Our Signature Series friction feeders are powered by an 800 watt brushless servo motor which is one of the largest in the industry. This makes our feeders strong enough for the most demanding application, with the reliability to provide years of uninterrupted production