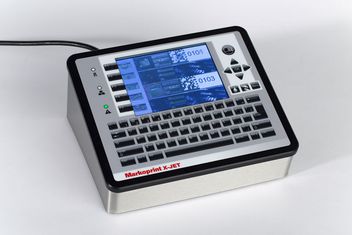 Compact control system for 4 printing technologies
The particularly compact and cost-effective Markoprint X2JET plus Touch system is ideal for the foodstuffs, chemical, building materials and pharmaceutical industries. The innovative inkjet printing system marks absorbent and semi-absorbent surfaces. Fast, accurately and reliably.
Product details
Intelligent high speed control system for demanding marking applications. Four printing technologies can be controlled simultaneously.
Touch surface to operate the system easily
Parallel operation using a standard keypad and function keys
Networking possibilities using TCP/IP, USB and EIA232
Possibility of printing on up to two production lines
Simultaneous marking of primary and secondary packaging using a controller
Piezo (MX, XR)
50/100 mm with one printhead
Robust industrial printer
Absorbent surfaces
Coloured inks
Secondary packaging
Large volume of ink
Thermal Inkjet (HP, LX)
New printhead on each cartridge
Wide selection of inks
Absorbent, hardly absorbent and non-absorbent surfaces possible
Robust industrial printer
High resolution (600 dpi)
Different colours