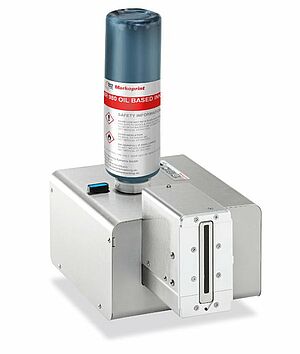 With innovative Xaar Piezo printhead technology
Markoprint X1JET XR 71 is a stand-alone industrial inkjet printer for controlling a Xaar Piezo printhead. The Xaar printhead belongs to the latest printhead generation with 500 individually controlled jets for a print height of 71 mm. This corresponds to a print resolution of 180 dpi. The compact "all-in-one" Piezo printer combines printhead, ink system, cleaning station, control circuitry and mains unit in one enclosure.
Operation, parameter setting and data transmission occurs via the simple and intuitive 3-key arrangement with LED indicator lamps. USB stick and Ethernet / EIA 232 interfaces are available for data transmission. The oil-based XR 980 ink is suited particularly well for printing on slightly absorbent and absorbent product surfaces. The short drying time also allows optimal printing on painted folding boxes.
Three different versions are available for varying applications:
In the Compact version, the printhead is mounted fixed, for horizontal labelling.
For more flexibility, the Vario version printhead is rotatable by 90° anti-clockwise.
The Top version offers maximum flexibility ‒ the printhead is connected to the ink system via a 1 000 mm long hose.
print height up to 71 mm
small fonts from 2 mm height
a single printhead = no offset in printed images
large, reliably readable barcodes
high-resolution graphics and logos with up to 360 x 180 dpi
500 individually controlled jets
low ink consumption despite high printing performance
reduced set-up times thanks to 500 ml ink bottle
internal ink reservoir allows ink change without interruption
simple inkjet printing system start-up
simple integration into existing production environments
Sistem Versiyonları
Bağımsız çalışan HP teknolojisi baskı sistemi
Küçük ve kompakt yapı
Denetleyici ve baskı kafası
Kullanıcı dostu sistem kontrolü için LED gösterge lambalarıyla basit ve sezgisel 3 düğmeli kullanım
SmartCard işlevi mürekkep kartuşu tanıma ve otomatik parametre ayarları
Uygun maliyetli giriş sistemi
Arayüz üzerinden değişken kontrol
USB bellek ile basit düzen ve parametre transferi
Güç kaynağı 12 – 24 volt