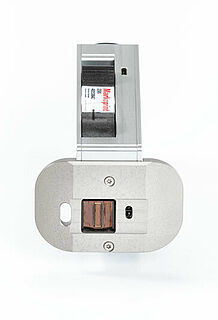 Compact thermal inkjet printer for system integrators
Our Markoprint Integra One inkjet printer was specifically developed for an easy system integration for when space is limited. Its integrated display allows system settings to be changed and checked as well as variable fields to be edited directly on the system.
The Markoprint Integra One IP is also available with IP65 rating (dust and splash water protected), making it safe for use in harsh production environments. Equipped with the well-proven HP inkjet technology, the system will print text, bar codes, 2D codes, expiration dates, batch numbers, etc. up to 12.5 mm high and with up to 900 dpi. With various water- and solvent-based inks available for the system, high-quality prints can be achieved on almost any surfaces such as paper, cardboard, painted surfaces, foils and plastics.
The intelligent HP SmartCard cartridge monitoring ensures consistently excellent printing results. It identifies the current ink type and automatically sets the appropriate ink parameters, which makes the changing of ink cartridges significantly safer, easier and faster. The printing system detects opened cartridges and always reports the current ink level to the controller. So there are no unexpected production stops and the operator can provide replenishment in time! Thanks to the patented Click'n'Print cartridge holder, replacing is quick and easy done with just one click.