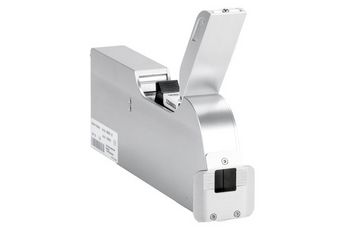 Inks for Markoprint inkjet printers
Whether you want to increase your current print volume, improve your print results, or simply desire more flexibility and efficiency in inkjet coding, we deliver the most powerful, reliable, and cost-effective inks for industrial printing with our thermal and piezoelectric Markoprint inkjet printers.
As the only manufacturer in the world, we are able to control five leading printing technologies: Our inkjet systems are compatible with the innovative ink cartridges from HP, Seiko, Funai, Trident and Xaar!
HP cartridges – The All-Rounders
Versatile inkjet printheads for high resolution markings on almost any product or packaging!
Very high reliability and safety under operational conditions: The cartridge and the complete printhead are exchanged simultaneously. This guarantees consistent typeface quality.
High printing speeds in barcode quality: up to 180 m/minute at 300 dpi resolution (maximum 300 m/minute).
Brilliant print image with ink cartridges (thermo inkjet) of consistent quality, up to 600 dpi resolution (at 45 m/minute), achieved by ejecting tiny, accurately placed droplets from hundreds of minute nozzles at very high frequency.
Maintenance-free and simple operation with patented Click´n Print cartridge replacement system. Cartridge installation is clean and simple.
High flexibility by deploying several HP printheads. Print heights of maximum 12.5 mm to 100 mm are possible, and layouts are freely configurable. Multi-sided coding of packaging on two sides (top, side or at different production lines). Virtually all porous and non-porous surfaces can be marked, depending on ink type. Distance of printhead to product surface ranging from 0.5 to 5 mm.
Highly economical: Low operating costs but also high availability through simple and clean ink exchange, zero maintenance, immediate write response and uninterrupted operation.
Simple installation by dint of very compact design, with 3 different printhead types available
Trident cartidges (MX) – The Big Ones
Perfect for text and graphic markings on absorbent surfaces with our large character inkjet printers!
High reliability: Piezo-controlled graphic printing for industry-standard fonts, with almost unlimited number of rows
High printing speeds in barcode quality: up to 60 m/minute at 192 dpi (maximum 200 m/minute)
Good print image based on perfected and proven Piezo technology
Simple operation through integrated maintenance module
Unique flexibility through the use of several Trident printheads
Maximum 50 mm to 800 mm printing heights possible, as well as freely configurable layouts
Multi-sided coding of packaging on two sides (top, side or at different production lines)
Virtually any porous surfaces can be marked, depending on ink type
Topping up ink whilst in operation
Up to 5 mm distance from printhead to product surface enables marking of cartons with surface tolerances
Highly economical: best price-performance ratio in terms of ratio: cost of ink to area printed
Xaar ink cartridges (XR) – The Productive Ones
Print height: > 25 mm to 71 mm
Barcodes with a print height > 12,5 mm
Small texts >2 mm and detailed logos
Print on semi absorbent surfaces (coated carton, varnished carton with open area
Recommended for large ink consumption
Nearly maintenance-free
High resolution up to 180 dpi
500 separately controled nozzles
Easy initial operation and venting of the ink system
No frequently cartridge change (500 ml ink bottle)
Funai cartridges (LX) – The Specialists
Very high reliability under operational conditions: the cartridge and the complete printhead are exchanged simultaneously. This also guarantees consistent typeface quality.
Intelligent ink cartridge for increased coding reliability
Ink type, manufacturer and ink content can be stored with the cartridge. The printer can therefore automatically be set to recognize the correct ink and other ink can be detected and blocked
Ink filling level detection guarantees timely detection of imminent cartridge replacement, assuring ongoing operation.
Very high printing speeds in barcode quality
up to 240 m/minute at 300 dpi (maximum 400 m/minute) with Dual Channel. There are two of every nozzle.
Extremely brilliant print image up to 900 dpi using ink cartridges and thermo inkjets of consistent quality, achieved by ejecting tiny droplets from hundreds of minute nozzles at very high frequency and highly accurately positioned
Simple operation: the cartridges are clean and easy to handle. No special training or maintenance required.
Unique flexibility by using several Funai printheads, max. printing heights of 12.7 to 100 mm are achieved, as well as freely configurable layouts.
Multi-sided printing of packaging is possible from top, bottom or side or also at different production lines.
Distances of up to 10 mm from printhead to product surface. This also enables flexible printing on convex and concave surfaces.
Virtually any porous and non-porous surfaces can be marked, depending on ink type.
Highly economical: low operating costs but also high availability through simple and clean ink exchange, zero maintenance, immediate write response and uninterrupted operation.
Simple installation by dint of very compact design, with 2 different printhead types available