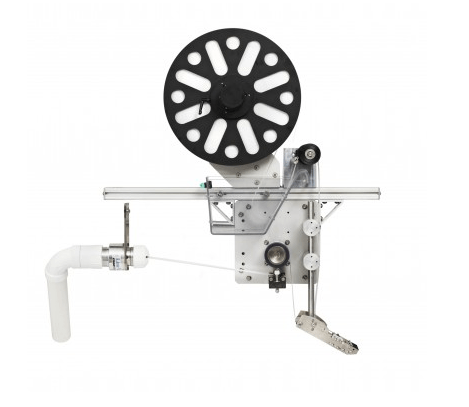 General Information
When the demands of your high-performance label application require more features than are offered by any other label applicators available, it's time to move up to the MFT 102hsm. Similar to the MFT 103hsm in almost every capability, the MFT 102hsm distinguishes itself with a Vacuum-Powered Takeaway system. The MFT 102hsm label machine offers the speed and accuracy required in today's production environment.
MFT 102hsm Typical Applications
Credit card labeling
Pharmaceutical labeling
Barcoding applications
UPC over labeling
Food and beverage labeling
Irregular product application
Integration with MFT friction feeders
High-speed web applications
And many more…
Specs
Maximum media width: 101.6mm [4″]
Minimum media width: 12.7mm [0.5″]
Minimum media length: 15.24mm [0.4″]
Maximum media roll size: 16″ O.D., 3″ I.D.*
Maximum dispense speed: up to 150 meters/min
Maximum throughput rate: 300 Prod/min**
Peel Tip Placement accuracy: up to +/- 0.5mm
* or optional 20″ O.D., 3″ I.D.
** or optional up to 2000 Prod/min
Features
Standard performance package – up to 300 PPM
Designed to fit where needed
800 watt (1 horsepower) brushless servo motor
16 inch media unwind
Easy to learn open thread pattern and operation
Ready inputs and outputs for system integration
On the fly placement adjustment
Upgrades
High performance package – up to 500 PPM
T-Base style stand with low toe feature
Straddle style stand
Remote mountable three color alert light
6 inch wide media width
Encoder speed compensation
Encoder timing compensation for accurate placement